Boarding
Four Paws offers boarding on a reservation basis. All pets are boarded separately (unless otherwise specified by the owner) in indoor kennels. Dogs are taken outside to exercise at least twice daily in a fenced environment under constant supervision.
Boarding Guidelines:
Each pet must be current on the following vaccines:
Dogs - Rabies, Canine Distemper, Parvo and Bordetella
Cats - Rabies, Feline Distemper and Bordetella (at this time the Feline Leukemia vaccine is not required, but is highly recommended)
All necessary vaccines can be administered upon arrival for boarding.
All pets will be checked for external parasites such as fleas and ticks and if necessary will be treated immediately at the owner's expense.
Should any pet become ill while boarding, their condition will be assessed, the owner will be contacted if at all possible, and they will be treated accordingly at the owner's expense (we recommend leaving an emergency contact phone # whenever possible)
Any medications that your pet may be taking should be left with clear instructions.
You are welcome to leave a minimal amount toys, bedding and/or other items that will make your pet feel at home. ***Please label all items left with the pet's name and the owner's last name in permanent marker and be aware that we cannot guarantee the condition of any items left in the clinic while boarding.
Boarding pets are admitted into and discharged from the hospital during normal business hours only. Please be aware that Four Paws closes at 12 noon on ALL Thursdays and Saturdays, and that the clinic is closed on Sunday.
If you pet requires a special diet, please either bring enough for the days your pet will be staying, or else notify the receptionist and they will be fed the diet if it is a brand we carry (we carry Hill's Science Diet products) and there will be an additional charge to the client.
CAT CONDOS: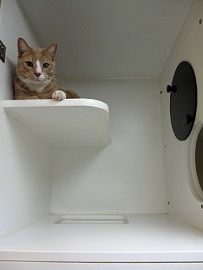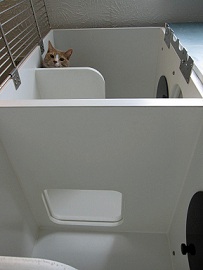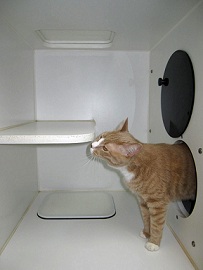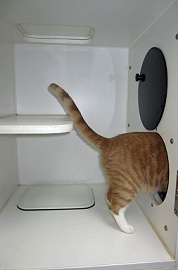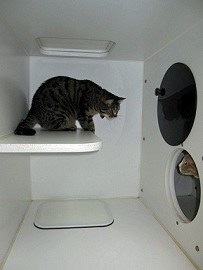 LARGE DOG BOARDING: