The Clinic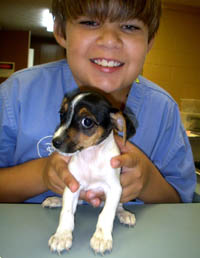 Even Dr. Whitlow's oldest son Will wants to be in on the action.
Four Paws Animal Hospital is a small animal clinic dedicated to providing you and your pet with the best possible care and attention needed for a long and healthy life together.
Dr. Whitlow and his staff have been providing quality pet care to the Troup County area since 1993 and are proud to offer an array of veterinary services ranging from standard health exams and vaccinations to emergency medical care and various surgical procedures.